Browsing articles tagged with " sweet bread"

This bread is amazing. In fact, this bread is so amazing that I guarantee two things will happen when you make it. First, you will consume an entire loaf… by yourself. Second, you will need to make another batch because you just consumed an entire loaf. My advice to you- make two batches from the start. Or better yet, make one batch of mini loaves to give away and one large loaf to devour nibble on yourself. Go ahead, it's the holidays, you deserve it.
All joking aside, eating a whole loaf of this bread really isn't the end of the world. Why? Because it's actually pretty healthy. The recipe is based on Cranberry-Nut Mini Loaves with Flax from Liv Life (remember the ones I dropped on the floor). It includes healthy ingredients such as ground flax seed and whole wheat flour. It also has a minimal amount of oil and very little sugar. While the original recipe was pretty tasty I've been inspired lately by recipes that combine cranberries and pears. When I saw a recipe for Pear Cranberry Walnut Bread from Tracy at Shutterbean I just knew I had to make something like it. In the end I made a sort of hybrid version of the two recipes, and if I do say so myself- it was delicious!
Cranberries and pears hanging out together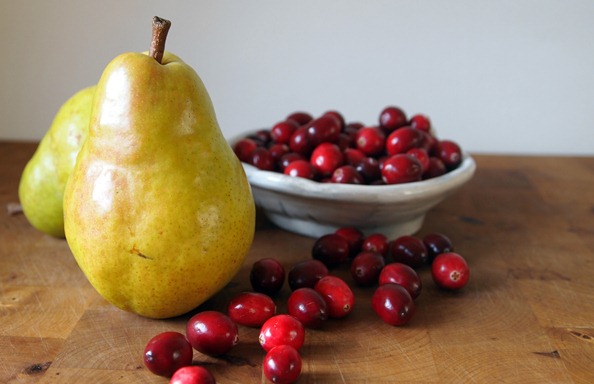 The cranberries get chopped
The pears get grated- messy, messy
Combine the dry ingredients. Fresh Nutmeg rules!
Wet ingredients in another bowl. Don't forget the pear.
Wet and dry ingredients combine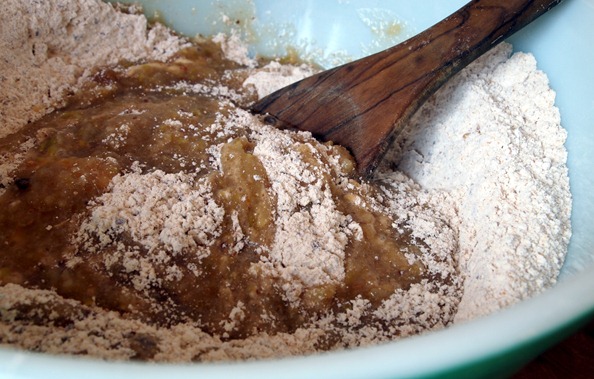 Fold in the cranberries
Into the mini loaf pans and pop in the oven
Good enough to eat!
Cranberry-Pear Mini Loaves
Inspired by Liv Life and Shutterbean
Makes: 3 mini loaves (3×6-inch pans with a 2 cup capacity)
1 cup whole wheat flour
1 cup unbleached white flour
1/2 cup ground flax seed
1 1/2 teaspoons baking powder
1/2 teaspoon baking soda
1 teaspoon cinnamon
1/2 teaspoon ground nutmeg
1/4 teaspoon salt
1 egg
2/3 cup brown sugar, packed
1/4 cup canola oil
1 teaspoon vanilla extract
1 teaspoon lemon zest
1 tablespoon lemon juice
2 pears, grated
1 1/2 cups cranberries, chopped
1. Preheat the oven to 350ºF. Coat 3 mini loaf pans with cooking spray.
2. In a food processor, pulse the cranberries a few times until they are roughly chopped. Set aside. Grate the pears using the fine side of the grater. This is a messy process, so it's probably best to do it over a bowl. Set this aside as well.

3. In a large bowl whisk together the flours, ground flax, baking powder, baking soda, cinnamon, nutmeg and salt.

4. In a small bowl combine the egg, brown sugar, canola oil, vanilla, lemon zest and lemon juice. Mix in the grated pear.
5. Make a well in the center of the dry ingredients and pour in the wet mixture. Stir well to combine. Fold in the chopped cranberries.
6. Divide evenly among the loaf pans and bake for 35 minutes, or until a wooden tester comes out clean. Cool on a wire rack at least 15 minutes before slicing.

Subscribe by e-mail
Enter your e-mail address to receive notifications of new posts by email
Recent Posts
Archives
Tasty Reads