Browsing articles from "October, 2011"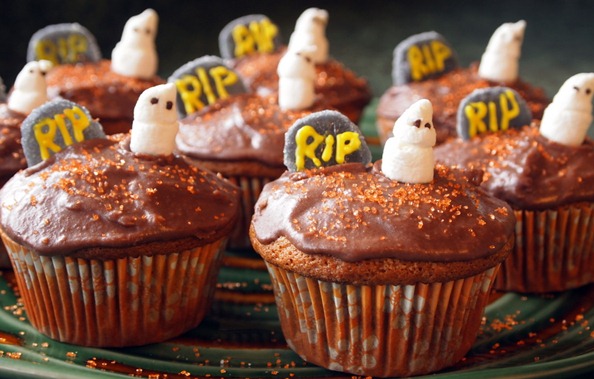 I didn't want to make cupcakes this week. I swear I didn't. Let's be honest, after those cinnamon rolls last week, I shouldn't have made cupcakes. I even had a perfectly delicious and healthy stuffed squash recipe that I was ready to post. That is until I realized what sweet filled holiday was right around the corner- Halloween! Could I really post a recipe for Quinoa Stuffed Squash the day before Halloween? Surely some sort of ghoul or goblin would come to haunt me for committing this culinary blunder. It is Halloween after all! This is the holiday that celebrates, and even encourages, our love of all things sweet. Entire isles of the supermarket are filled with jumbo sized bags of mini candy bars, orange & black M&Ms, and that iconic sugary treat we call candy corn. Who am I to fight the primal urge to dress up like superheroes and slutty nurses so we can stuff ourselves with sugar.

So I gave in, the squash recipe will have to wait till mid-week. By then most of us will be sick from over indulging on the left-over candy that we bought for the trick-or-treaters, the bag of assorted goodies that was confiscated from the kids after their night of fun (for the sake of their health, of course), or the sticky popcorn balls that your co-worker's grandmother makes every year. A nice, healthy stuffed squash will be just what the doctor ordered. For now though, I say give in to the sweet temptations. After all, it wouldn't be Halloween without slutty nurses eating chocolate frosted cupcakes.

Makes 24 cupcakes
Pumpkin Cupcakes:
2 2/3 cups all-purpose flour
2 teaspoons baking soda
2 teaspoons baking powder
2 teaspoons ground cinnamon
¼ teaspoon freshly grated nutmeg
¼ teaspoon cloves
1 tsp. salt
1 cup granulated sugar
1 cup packed light brown sugar
1 cup canola or vegetable oil
4 large eggs
1 cup fresh or canned pumpkin pureeChocolate frosting:
5 tablespoons unsweetened cocoa powder
5 tablespoons unsalted butter, room temperature
2 2/3 cups confectioners' sugar
4-6 tablespoons milk
1 teaspoon vanilla extractDecorations:
Black Gumdrops
Yellow writable icing
Mini Marshmallows
Chocolate sprinkles
Orange sanding sugar
A few tips for the graveyard assembly:Gravestones: You can get more than one gravestone out of a single gumdrop. I cut the entire candy into slices that were about a 1/4-inch thick. I was able to use 3 or 4 of the pieces. Just be sure that the gravestones are big enough to write on with the icing.Ghosts: For the top half of the ghost, twist the marshmallow with your fingers to form a point. Poke two tiny holes with a toothpick and insert the sprinkles for eyes. Cut a slice off each of the marshmallows and stick the cut sides together.

Be sure to place your decorations on the cupcakes before the icing dries. Finish them off by sprinkling with orange sanding sugar.

Preheat oven to 350˚. Line two 12-cup muffin pans with paper liners.

In a medium bowl whisk together the flour, baking soda, baking, powder, cinnamon, nutmeg, cloves and salt. Set aside.

In a large bowl fitted with an electric mixer (or using a hand mixer) combine the brown sugar, granulated sugar, and oil. Add the eggs one at a time, beating well between each addition. With the beater on low, add the flour mixture in two parts, mixing well between each addition. Fold in the pumpkin purée and mix by hand until thoroughly combined.

Divide the batter evenly among the liners. Each cup will be about ¾ of the way full. Bake 20 to 23+- minutes or until the cakes spring back when touched and a toothpick inserted in the center comes out clean. Depending on your oven, you may need to rotate the pans once. Cool completely on a wire rack.

Chocolate Frosting: In a medium bowl sift together the confectioners' sugar and cocoa powder. In a large bowl fitted with an electric mixer (or using a hand mixer) beat the butter until creamy, about 4 minutes. With the mixer on medium low, add the sugar mixture alternating with the milk. Mix in the vanilla. Increase the mixture speed to high and beat until smooth.
As promised, the squash journey continues. This week I  have taken on the ominous Blue Hubbard Squash. This beastly, bumpy, blue –tinted behemoth can be a bit intimidating because of its size. However, once you get past the monstrosity factor and figure out how to crack this baby open, the reward is a sweet, smooth dark yellow flesh that is oh so yummy.
I have been making this recipe, formerly called "Pumpkin Cinnamon Rolls" for years. While they were good, some would even say delicious, I decided to mix it up a bit this year and substitute squash for the pumpkin. I've heard that the Hubbard squash is a great alternative to pumpkin because while it has a similar flavor the consistency is far smoother. Anyone who has even cooked a pumpkin and tried to mash it knows just how stringy it can be. Don't get me wrong, I still think that pumpkin is great for cooking, and I will definitely be posting a pumpkin recipe or two sometime soon, but in  this recipe the Hubbard squash simply blew the pumpkin away.
Before we start in on the recipe I feel obligated to give a bit of a disclaimer here. This is a long post…and this is a time consuming recipe. Stick with me though, because in the end when you are rewarded with the  soft, pillowy squash-filled dough oozing with an ohhhy, gooey, cinnamony filling you simply won't care that you spent an entire afternoon making them. Besides, if you go all out like I did and roast up an entire 11-pound squash, as a bonus you will have delicious leftover roasted squash that you can turn into a whole bunch of other recipes!
I am getting a bit ahead of myself though. The first step to cooking with a Blue Hubbard is to get that thing open. Despite their beastly reputation, a Hubbard does not have to be..well, a beast. This recipe only calls for one cup of squash so if you want to make your life easier go ahead and get the smallest one you can find. I even saw a variety called Baby Hubbard while I was at the farm stand. Most of those probably only weighed a very manageable 3-4 pounds. However, if you are a squash lover like me, or just feeling adventurous, go for it and get the big one! The leftover squash can be used in so many ways. And besides, wrestling with this beast was kind of fun. I decided to use the time honored tradition of dropping the squash on the ground to crack it open. I put it in a plastic bag, lifted it above my head, and let it fall (I did this outside on the deck because we have ceramic tile in our kitchen and I was afraid I might crack it ). Sure enough, after one fall the squash split in two. They were still two pretty big pieces though so I threw it down again and this time it broke into a bunch of manageable size parts. The next steps were simple-  scrape out the seeds, peel off the skin, cut into roughly 1-inch size chunks and roast in a 375° for about 40 minutes or until tender.
Once your squash is roasted to perfection, you can use a potato masher or food processor to turn it into a smooth purée. Set aside one cup of the mashed squash for the cinnamon roll recipe. If you went whole hog, or rather whole squash, and got yourself a big boy here are a few ideas for how to use your leftover squash:
Mash it up, add a bit of cream or milk, throw in some spices (rosemary, cayenne pepper, or sage would all be good ) and you have a soup.

Use the roasted cubes in a chicken pot pie!

Add the p

uréed

squash to mashed potatoes for an autumn twist on a classic favorite.

Substitute the roasted Hubbard for Butternut in this recipe for squash Mac n' Cheese http://www.myrecipes.com/recipe/creamy-light-macaroni-cheese-50400000115195/ (Omit step number two).

Mix the roasted cubes with wild rice, caramelized onions and a bit of sausage for a super quick meal.

 

Make a squash pizza! Roasted squash makes an amazing pizza topping. Use a base of ricotta cheese, garlic and a bit of mozzarella. Top with squash, sautéed shallots and a bit of crispy bacon or pancetta.

Package the leftover squash in freezer bags and save for later.
There's so much more you could do with the leftover roasted squash, but for now let's get busy and make these rolls!
Makes 12-15 rolls
For the rolls:
1 package dry yeast (2 1/4 teaspoons)
1/4 cup warm water (100-110 degrees)
1 cup whole wheat flour
2 1/2 cups white flour
1 cup roasted Hubbard squash purée (fresh or canned pumpkin purée can be substituted, but I am telling you, the squash is the way to go)
1/2 cup 1% low-fat milk
5 tablespoons unsalted butter, melted
2 tablespoons granulated sugar
1 teaspoon salt
1 teaspoon cinnamon
¼ teaspoon cardamom
¼ teaspoon ginger
Filling:
4 tablespoons softened butter
2/3 cup sugar
1/4 cup brown sugar
3 tablespoons white flour
2 teaspoons cinnamon
1/2 teaspoon allspice
1/2 teaspoon ginger
1/4 teaspoon freshly grated nutmeg
1/8 teaspoon cloves
Glaze:
3/4 cup powdered sugar
2 tablespoons milk
1/4 teaspoon vanilla
In a large bowl dissolve the yeast in warm water. Let stand for about 5 minutes until foamy. If it does not foam, start over with new yeast. Trust me, this step is important – there is nothing worse than dough that doesn't rise properly.

Add the whole wheat flour, squash, milk, butter, sugar and spices. Beat with a mixer until well combined for about 2 minutes.

Now, it's time to knead the dough. I use the bread hook on my stand mixer and it takes about 6 minutes to incorporate in 2 cups of the white flour, adding it one half cup at a time. The final half cup I prefer to knead in by hand on a well floured surface. By the end the dough will be smooth and elastic.

If you don't have a stand mixer, or you just love kneading by hand, it will probably take you about 10 minutes. Turn the dough out on a well floured surface and add the remaining 2 1/2 cups of flour a half cup at a time, kneading well between additions.

Place the dough in a well oiled bowl, cover with a dish towel and let rise in a warm spot until doubled in size, about 1 hour. If you have a cold house like I do it can be tricky to get dough to rise properly. One way to remedy this (besides moving to a warmer climate!) is to pre-heat your oven to 200°, turn it off and then put the bowl of dough in there. It works every time.

You will know the dough is ready when you press down on it with your fingers and the indentation stays. Punch the dough down and let it rest for 5 minutes.

In the meantime, make the filling.

Combine the 2 sugars, flour and spices in a medium size bowl. Cut in the butter with a pastry blender or 2 knives until it resembles a coarse meal.

Flour a smooth surface and roll the dough out into a 12 x 18- inch rectangle. Sprinkle the dough evenly with the filling.

Starting from the long edge, roll the dough tightly, pressing firmly to eliminate any air pockets. Pinch the seams and ends to seal.

Cut the roll in 1-inch slices. You should end up with between 12 and 15 rolls. Place the rolls in a greased 9 x 11-inch baking pan, leaving room for them to rise. If they won't all fit in the 9 x 11 pan use a 9-inch round cake pan or something similar for the extra rolls.

Cover the dish(es) and let rise for about 30-40 minutes or until doubled in size once again. While they are rising pre-heat your oven to 375º.

Bake for 20-25 minutes or until golden brown.

Cool the rolls in the baking dish(es) on a metal rack. While they're cooling, make the glaze. Whisk the powdered sugar, milk, and vanilla in a bowl until smooth. Drizzle the glaze over the cinnamon buns. Eat and enjoy!


I know, I know. I made this grand announcement last week that I was going on a squash filled journey and promised you new and exciting squash recipes – I bet you were hoping for more fun facts too. So what do I do? I go and post a recipe about cabbage. Cabbage isn't even one of my favorite vegetables. I am often drawn to the cabbage because of its pretty purple leaves, and I love a nice crunchy coleslaw with a tangy vinaigrette, but more often than not I am not sure what to do with this large vegetable that looks oddly like a brain when you slice it open.
So when I plucked this singular, perfectly formed head of cabbage out of my garden (yes, we grew just one cabbage this year) I knew I wanted to make something different, and I knew just where to turn for an exceptional recipe. I am lucky enough to own a copy of an amazing book by James Peterson aptly called, Vegetables. It is an amazing resource for all things veggie and the place where I often turn when I
am looking for a simple recipe that highlights a particular vegetable, or just some basic information on how best to prepare a vegetable. I knew this recipe was the one as soon as soon as I saw it because it included apples. I've always been a sucker for the combo of tangy cabbage with sweet apples and this recipe had one even more irresistible ingredient…bacon. Okay, I know bacon is NOT a part of healthy cooking and for the most part we are a turkey bacon kind of household, but in this recipe a few slices of thick-cut maple smoked bacon is just what the doctor ordered (ha ha). I did make some adjustments to the amount of bacon in this dish though. The original recipe was called "Baked Cabbage with Apples and Bacon" and the addition of bacon in the title gives you a hint to how much bacon was called for- an entire half pound! I just couldn't do it, delicious or not, I want to live long enough to enjoy more bacony meals so I cut the amount down by more than half. My version includes just 6 slices of bacon, and with eight servings in the entire dish that's less than one piece per serving. Enough to add that yummy flavor without so much of the guilt.
Adapted from Vegetables by James PetersonMakes 8 side dish servings
Ingredients:1 medium red cabbage,  2-2 ½ pounds
6 slices of thick bacon, cut into 1-inch pieces
2 medium onions, thinly sliced
3 large tart apples, peeled, cored & thinly sliced
1 tablespoon sugar
6 tablespoons balsamic vinegar
Salt and freshly ground black pepper

Preheat oven to 350˚
Peel off the outer leaves of the cabbage. Cut into quarters and then cut off and discard the section of core left on each quarter. Slice the cabbage sections very thin.
Cook the bacon in a skillet over medium heat until they barely begin to turn crispy, about 8 minuets. Remove the bacon with a slotted spoon and set on a paper towel to drain. There should be about 2 tablespoons of fat left in the pan. If your bacon is especially fatty and there is more drain off the excess.
Cook the onions in the bacon fat over medium heat until they are soft but not brown, 6-8 minutes. Add the shredded cabbage and bacon to the onions. Cook and stir for 8-10 minutes or until the cabbage is limp.
Peel and core the apples. Cut into quarters and thinly slice each quarter. Toss the slices with the sugar and vinegar. Gently mix the apple and cabbage mixture together. Season to taste with salt and pepper.
Bake in a 9 x 13 baking dish for about 1 hour.
Subscribe by e-mail
Enter your e-mail address to receive notifications of new posts by email
Recent Posts
Archives
Tasty Reads