Browsing articles tagged with " beans"

Oh man has it been cold lately. I'm not talking below freezing put on a scarf before you go out cold. This is the real deal. Like –17 degrees kind of cold. Like stay in bed and huddle under the covers kind of cold. Or sit in front of the fire and read a book kind of cold. The good news is that we finally have a nice layer of snow on the ground and the sun is out this morning so at least it looks pretty outside.
Let me show you. This is the view through my kitchen window. What? You thought I was going to go outside and take a picture for you? Did I mention it's below zero right now. Besides, I kind of like the contrast of my window sill succulents against the snowy cold backdrop. It's like two worlds colliding.
So besides staying in bed or huddling by the fire how do I stay warm when the temperature dips below frigid? I cook of course!  Nothing warms the kitchen faster than a hot oven, and nothing warms the body better than a big glass of wine…umm,I mean plate of spicy food.

Quesadillas are the kind of food that everyone likes and anyone can make. Okay, maybe I'm generalizing a bit, but really what's not to like? And can you say quick and easy- that's what this dish is all about. Chop your ingredients, layer them in a tortilla with some cheese, pop in the oven and that's it! Simple, simple, simple. The other thing I like about quesadillas is how many different ways you can make them. Pork, chicken, rice, pineapple, peaches, goat cheese, white beans, black beans…I could go on and on. If you can chop it and fit it between two tortillas you can make it into a quesadilla. I went pretty basic with this recipe. Partly because I really like this simple combo of peppers, mushroom and black bean, but mostly because it was what I had and it was far to cold to go to the store.
Here are my ingredients. Yes, that is frozen corn. Not many fresh ears floating around in the middle of January so the frozen stuff will have to do. The good thing- frozen corn from a bag is much less messy than cutting the kernels off the ears. I always find those little buggers all dried out under my toaster oven like a month later.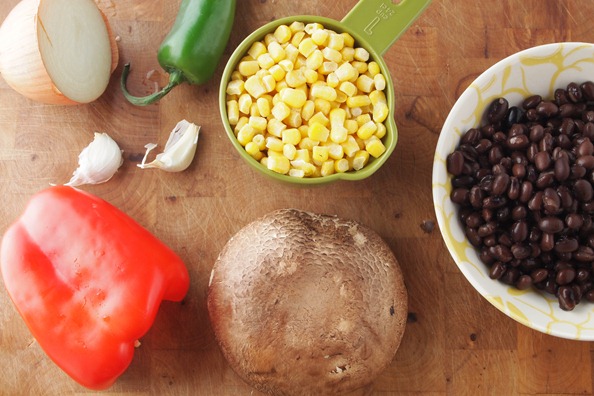 Here is everything all chopped up. You can adjust the amount of heat by either removing the ribs and seeds from the pepper for less heat, or leaving them for more. Since grocery store jalapeños tend to be pretty mild I left all the seeds and ribs for this recipe. In the summer though, when they come fresh from the garden, that's a whole different story.

All the veggies go in a pan for a quick sauté.

Sprinkle the tortillas with cheese and top with the veggie mixture.

I added a bit of chopped roasted chicken that was leftover from a few nights ago, sprinkled on more cheese and topped with another tortilla.

After baking for 10 minutes top with fresh mashed avocado mixed with a squeeze of lime and serve with salsa. Guaranteed to warm you from the inside out!

Before I give you the recipe I feel obligated to include this note about tortillas:
Not to be preachy but did you know that this innocent flat piece of dough can actually be incredibly unhealthy? A normal size 10-12" tortilla has an average of 130 calories, about 5 grams of sugar and only 3 grams of protein. That's the whole wheat kind, don't even get me started on the white ones. It doesn't have to be this way. There are healthy tortillas out there. My favorite are the Cedar's brand 8" whole wheat. Unlike many other "whole wheat" tortillas these actually contain whole wheat flour. They also only have one gram of sugar, 80 calories and 8 grams of protein. You might not be able to find this brand where you live, but PLEASE read the ingredients before you buy. And whatever you do, don't buy the ones next to the taco shells in the middle of the store (yeah I am talking about the huge white Mission brand ones- you might as well be eating a donut). Generally the tortillas in the refrigerated section of the store are a far healthier option. Okay, enough lecturing…on to the recipe.

Two Pepper, Mushroom & Black Bean Quesadillas

Serves: 4
8  (8-inch) whole wheat tortillas
1/2 tablespoon extra virgin olive oil
1 sweet red pepper, chopped small
1 jalapeño pepper, chopped small- seeds and ribs removed if you want less heat
1/2 medium onion, chopped small
2 garlic cloves, minced
1 cup mushrooms, chopped small – I used 1 medium size portabella
1 cup frozen corn
1 cup low-sodium black beans, drained and rinsed
1/2 teaspoon cumin
1/2 teaspoon dried oregano
salt and freshly ground black pepper to taste
1 1/2 cup chopped cooked chicken (optional)
8 ounces reduced fat cheddar cheese, shredded – I recommend Cabot 50% light cheddar
1 avocado
1/2 lime
Salsa for serving
1. Preheat the oven to 400ºF. Heat the olive oil in a large skillet over medium-high heat. Add the onion, garlic and both kinds of peppers to the pan. Cook, stirring often for 4-5 minutes or until the onions are translucent and the peppers begin to soften. Add the mushrooms and cook for another 2 minutes or until they start to relapse their juices. Add the frozen corn, black beans, cumin, oregano, salt and pepper. Cook for another 3-4 minutes. Remove from heat.
2. Lay two tortillas on a baking sheet coated with cooking spray. Sprinkle 1 ounce (2 tablespoons) of cheese on each tortilla. Top with about a 1/2 cup of the vegetable mixture. If including chicken sprinkle some on top of the vegetables. Top with another 1 ounce of cheese and place a second tortilla on top pressing down lightly. Repeat with the remaining four tortillas on another baking sheet (you will have a total of 4 quesadillas).
3. Bake for about 10 minutes or until the top is browned and the cheese is bubbly. Remove from the oven and slice.
4. In a small bowl mash the avocado, squeeze in a bit of lime and stir to combine. Top the quesadilla wedges with a dollop of the avocado lime mixture and serve with salsa.


Sometimes I am the type of person who slaves for 3 hours over delicate mushroom filled pastry dough triangles . Annnd…sometimes I am the type of person who spends 20 minutes smearing cream cheese on canned crescent roll dough and calls it a day. These two sides of me often battle it out. The first side nags at me with her instance that everything must be made from scratch, artfully arranged, and taste like it came straight from the kitchen of Martha Stewart. The latter scoffs at this ridiculous notion that time and perfection equal taste and satisfaction. Usually, I can manage to broker some sort of compromise between the two, but not today. Today, on this New Year's Eve Eve, the lazier (and more realistic) side won hands down- she even went so far as to buy dough in a can!
So what's the bonus to taking the quick approach? More time to do laundry? Wash the dishes? Make New Year's resolutions? Nope, nope, and nope. How about make more appetizers? Now that's just my style. Actually, the second app didn't take any extra time because I made it while the crescent rolls were baking. Multi-tasking and dough from a can…I must be channeling some sort of domestic goddess today.
Well, from one domestic goddess to another, I am here to tell you that you too can make not one, but two, impressive and delicious appetizers in a mere 20 minutes. And if that little voice in your head starts screeching about homemade dough and organic goat cheese infused with herbs, you can tell her I said to shut it! Sometimes simpler is better – especially on Friday.
These mushroom cheese roll-ups are so simple that they take just four easy steps to make. Ready? Step one: sauté some mushrooms and onion. Opps…forgot to take pictures of this step, but you know what mushrooms in a pan look like.
Step two: mix together cheese, herbs and garlic
Step three: Spread cheese and mushrooms on the rolled out dough
Step four: roll up, slice and bake
That's it. Four steps to cheesy baked goodness. And while these little guys are in the oven you can make a creamy white bean dip that I swear tastes just as good as some other dips that shall remain nameless (artichokes and sour cream you know who you are) but with none of the fat and more of the fiber. The best part of this dip – it only take two steps to make. Ready, set, go!
Step one: Combine everything in the food processor
Step two: scoop into a bowl and eat with crackers or bread. Or skip the bowl part and eat it right out of the food processor…who I am to judge?
That's it. Twenty minutes and two appetizers. Throw in some champagne and you're ready to celebrate New Year's in style! Best wishes for the last days of 2011 and I'll be back in the new year with more recipes.

Cheesy Mushroom Roll-Ups

Makes: 16
1 8-ounce can crescent dinner rolls
3 ounces 1/3 –less fat cream cheese, softened
1 tablespoon parmesan cheese, finely grated
1 tablespoon fresh parsley, minced
1 garlic clove, minced
salt and ground pepper
1 cup mushrooms, any kind you like , chopped small
1/3 cup onion, finely diced.
1. Preheat the oven to 375ºF. Coat a medium pan with non-stick cooking spray. Sauté the onion and mushroom over medium-high heat for 4-5 minutes or until the soft but not brown. Set aside.
2. In a small bowl, combine the two cheeses, parsley, garlic and a dash of salt and pepper.
3. Pop the dough out of the can and roll out into two rectangles. Pinch the pre-cut seems together slightly. Spread half the cheese mixture on each rectangle. Starting from the short end, roll up the dough and pinch the ends to seal. Slice each roll into 8 pieces.
4. Place the sliced pieces cut side down on a baking sheet and bake for 12 minutes or until golden.

White Bean Dip

1 (15.5 ounce) can cannellini beans, drained and rinsed
1 1/2 tablespoons extra-virgin olive oil
1 1/2 tablespoons red-wine vinegar
2 cloves garlic
2 tablespoons water
1 teaspoon fresh rosemary, chopped
Salt and fresh ground pepper
In a food processor, combine the beans, olive oil, vinegar, garlic, and water. Process until smooth, adding more water if needed. Add the rosemary and pulse until combined. Season with salt and pepper.


I love butternut squash. Actually, I love all squashes.  It is my humble opinion that winter squash are one of the most versatile, delicious, and easy to prepare vegetables. They are also super simple to grow and come in an amazing array of funky shapes and colors. In fact, I am such a dork about squash that I've gathered some some fun tidbits about this special vegetable, um…fruit, for your reading enjoyment.
Squash are one of the oldest cultivated crops in the Western hemisphere. They were first gathered and consumed in the area between Mexico and Guatemala around 8000 B.C. Apparently back then only the seeds were eaten though, because the early varieties were bitter and didn't contain much flesh.
The butternut squash is the new kid on the block having only made its appearance in 1944.
We commonly refer to squash as a vegetable, but it is actually considered a fruit. Like cucumbers and melons they are part of the Cucurita genus.
This stuff is good for you!!! Winter squash is a fantastic source of antioxidants, including Beta Carotene and Alfa Carotene. It is also full of vitamin C (about 1/3 of daily value in a every cup), has anti-inflammatory properties, and contains omega 3 fatty acids.
This fall I am setting out on a journey of squash exploration (and I hope you'll come with me). I plan to hone my squash taming skills with some of the lesser know varieties like Carnival and Gold Nugget. I also will get rough with the beastly Hubbard squash (they say the best way to open this monster is to throw it on the floor). This week though, I thought I would start off slow with one of the most common of the winter squashes, the butternut. The butternut squash has a beautiful pale yellow skin and is shaped like a vase or a bell. Inside the deep-orange flesh has a sweet, nutty flavor and when mashed or pureed turns into a silky consistency that makes an excellent soup. Butternut squash can also be roasted, baked or boiled. In this recipe it is slowly simmered in a combination of cider vinegar and soy sauce which results in a mind-blowing tangy yet sweet flavor. The squash is then partially mashed and combined with leeks, black beans and cheese- yumm! This is a simple dish with a bold flavor that is sure to please.
Serves 6
Ingredients:
6 large whole wheat tortillas
5 cups butternut squash, peeled and cubed
¼ cup soy sauce, low sodium
1/2 cup cider vinegar
1/2 cup water
1 tablespoon olive oil
2 leeks, thinly sliced
4 cloves garlic, chopped
1 teaspoon ground cumin
½ teaspoon crushed red pepper
1 15 ounce can low sodium black beans, drained and rinsed
2 cups cheddar cheese, grated
1 cup salsa (Green Mountain Gringo is my favorite brand. It has a fresh flavor and texture that is as close to homemade as you can get in a jar. )
Optional:
½ -1 cup sour cream
1-2 tablespoons fresh cilantro
1 cup salsa


In a large sauce pan bring the squash, soy sauce, cider vinegar and 1/2 cup water to a boil. Turn heat down to medium-low and cook until the squash is very soft and most of the liquid is absorbed, about 3o minuets.

While the squash is cooking heat the olive oil in a shallow pan over medium high heat. Sauté the leeks, garlic and cumin until soft, 5 to 7 minuets. Add the crushed pepper, and black beans.

When the squash is done mash it with a fork, leaving lots of big chunks. Fold the bean and leek mixture into the squash along with 1 cup cheese.

Fill the tortillas with the filling, roll and place tightly in a lightly greased 9 x 13" baking pan. Pour 1 cup of the salsa over the top and sprinkle with the remaining 1 cup of cheese. Bake at 375˚ for 25 minuets or until the cheese and salsa start to bubble. Broil for 5 minutes until the cheese is brown.

Serve with more salsa, sour cream, and cilantro if desired.
Subscribe by e-mail
Enter your e-mail address to receive notifications of new posts by email
Recent Posts
Archives
Tasty Reads