Browsing articles tagged with " pepper"

Today I'm celebrating National Grilled Cheese month. Actually, as it turns out I've already celebrated it several times this month and I didn't even know it. That's because I just found out about this month-long celebration of melted cheese a few days ago. I'll be the first to admit that I'm not one of those food bloggers who's organized enough to post recipes for each (okay any) of the food holidays, but this was one I couldn't let pass by. Already this year I've missed National Popcorn Day, National Peanut Butter Lover's Day, National Chocolate-Covered Nut Day, and just yesterday National Garlic Day. No, I'm not making these days up. In fact, there is a National Some-Sort-Of-Food Day for every day of the year. Seriously. You would think since every day is a food holiday I could get it together just once to post something relevant. Nope, not happening. Fortunately for me, some food holidays last the entire month. April is also National Florida Tomato month and Soy Foods month…hmmm, think I'll stick with grilled cheese. It's unclear who decides these holidays. I wonder who declared February National Fiber Focus month, or June 5th Jelly-Filled Donut Day…and why? I guess it doesn't matter because celebrating food is always a good thing. Even if it is something boring like fiber, or kind of gross like Weinerschnitzel day (September 9).

I happen to love any dish that features melted cheese as a main ingredient, so an entire month of grilled cheese sounds good to me. Too bad I only have ten more days to celebrate. Speaking of celebrating, I think spring is finally here to stay so I thought it would be a good time to share some of the other things I love about April besides bread and cheese…
Tulips & Daffodils
Early purple flowers called Pulmonaria (ugly name, pretty flower) and wild Yellow Toad Lilies
Phineas playing in the river

And Arugula…grown right here in Vermont. In fact, grown right down the road at Three Crows Farm. Gotta love spring! It was this fresh Arugula that provided the inspiration for my grilled cheese. The slightly spicy flavor of this crisp spring green pairs perfectly with creamy, nutty fontina cheese.

I also added a roasted red pepper spread to the mix. If you've never made your own red pepper spread, or even roasted red peppers, you're in for a treat. Not only does this spread taste amazing, but it is sooo easy to make. The peppers are broiled for about ten minutes until blistered and black then steamed under plastic wrap. Slide the skins off and puree with garlic and olive oil. That's it. Couldn't be simpler.

Hearty whole wheat bread, thick slices of cheese, a slathering of red pepper spread, and a generous handful of arugula- now that's what I call a grilled cheese!

A stack of cheeses…all grilled up.
Grilled Cheese with Arugula + Roasted Red Pepper Spread

Makes 2 sandwiches + extra spread
2 sweet red peppers
2 cloves garlic, peeled
1 tablespoon + 1 teaspoon olive oil, divided
salt and freshly ground pepper
4 pieces whole wheat bread
4-6 ounces Fontina cheese, sliced thin
2 large handfuls arugula
1. Preheat the oven to broil and line a broil pan with aluminum foil (for easy clean up). Wash the peppers well and remove any stickers. Cut them in half and remove the ribs and seeds. Place the peppers cut side down on the lined broil pan and brush with 1 teaspoon olive oil. Broil for about 10 minutes until the skin is blistered and black. Remove from the oven, place in a bowl and cover tightly with plastic wrap. Let sit for 20 minuets. Remove the peppers from the bowl and peel off the skin. It should come off easily but rub any stubborn spots with your hand or a paper towel.
2. Chop each pepper into quarters and place In a food processor along with the garlic cloves and remaining 1 tablespoon olive oil. Pulse until a paste forms. Add salt and pepper to taste. You will have about 2 cups of spread. Save the leftovers in an airtight container in the refrigerator for up to a week.
3. Heat a griddle or grill pan over medium-high heat. Brush each piece of bread with a little butter or oil. Layer 2-3 ounces of cheese (depending on the size of your bread), a couple tablespoons of roasted red pepper spread, and a handful of arugula on two pieces of bread. Top with remaining bread pieces and press in place.
4. Cook for about 3-4 minutes on each side until the bread is toasted and the cheese is melted. Serve immediately.


Oh man has it been cold lately. I'm not talking below freezing put on a scarf before you go out cold. This is the real deal. Like –17 degrees kind of cold. Like stay in bed and huddle under the covers kind of cold. Or sit in front of the fire and read a book kind of cold. The good news is that we finally have a nice layer of snow on the ground and the sun is out this morning so at least it looks pretty outside.
Let me show you. This is the view through my kitchen window. What? You thought I was going to go outside and take a picture for you? Did I mention it's below zero right now. Besides, I kind of like the contrast of my window sill succulents against the snowy cold backdrop. It's like two worlds colliding.
So besides staying in bed or huddling by the fire how do I stay warm when the temperature dips below frigid? I cook of course!  Nothing warms the kitchen faster than a hot oven, and nothing warms the body better than a big glass of wine…umm,I mean plate of spicy food.

Quesadillas are the kind of food that everyone likes and anyone can make. Okay, maybe I'm generalizing a bit, but really what's not to like? And can you say quick and easy- that's what this dish is all about. Chop your ingredients, layer them in a tortilla with some cheese, pop in the oven and that's it! Simple, simple, simple. The other thing I like about quesadillas is how many different ways you can make them. Pork, chicken, rice, pineapple, peaches, goat cheese, white beans, black beans…I could go on and on. If you can chop it and fit it between two tortillas you can make it into a quesadilla. I went pretty basic with this recipe. Partly because I really like this simple combo of peppers, mushroom and black bean, but mostly because it was what I had and it was far to cold to go to the store.
Here are my ingredients. Yes, that is frozen corn. Not many fresh ears floating around in the middle of January so the frozen stuff will have to do. The good thing- frozen corn from a bag is much less messy than cutting the kernels off the ears. I always find those little buggers all dried out under my toaster oven like a month later.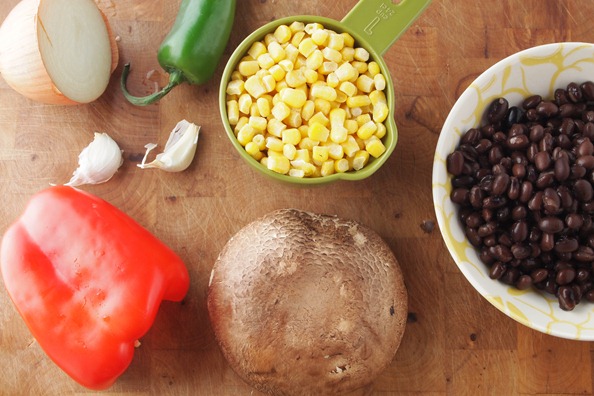 Here is everything all chopped up. You can adjust the amount of heat by either removing the ribs and seeds from the pepper for less heat, or leaving them for more. Since grocery store jalapeños tend to be pretty mild I left all the seeds and ribs for this recipe. In the summer though, when they come fresh from the garden, that's a whole different story.

All the veggies go in a pan for a quick sauté.

Sprinkle the tortillas with cheese and top with the veggie mixture.

I added a bit of chopped roasted chicken that was leftover from a few nights ago, sprinkled on more cheese and topped with another tortilla.

After baking for 10 minutes top with fresh mashed avocado mixed with a squeeze of lime and serve with salsa. Guaranteed to warm you from the inside out!

Before I give you the recipe I feel obligated to include this note about tortillas:
Not to be preachy but did you know that this innocent flat piece of dough can actually be incredibly unhealthy? A normal size 10-12" tortilla has an average of 130 calories, about 5 grams of sugar and only 3 grams of protein. That's the whole wheat kind, don't even get me started on the white ones. It doesn't have to be this way. There are healthy tortillas out there. My favorite are the Cedar's brand 8" whole wheat. Unlike many other "whole wheat" tortillas these actually contain whole wheat flour. They also only have one gram of sugar, 80 calories and 8 grams of protein. You might not be able to find this brand where you live, but PLEASE read the ingredients before you buy. And whatever you do, don't buy the ones next to the taco shells in the middle of the store (yeah I am talking about the huge white Mission brand ones- you might as well be eating a donut). Generally the tortillas in the refrigerated section of the store are a far healthier option. Okay, enough lecturing…on to the recipe.

Two Pepper, Mushroom & Black Bean Quesadillas

Serves: 4
8  (8-inch) whole wheat tortillas
1/2 tablespoon extra virgin olive oil
1 sweet red pepper, chopped small
1 jalapeño pepper, chopped small- seeds and ribs removed if you want less heat
1/2 medium onion, chopped small
2 garlic cloves, minced
1 cup mushrooms, chopped small – I used 1 medium size portabella
1 cup frozen corn
1 cup low-sodium black beans, drained and rinsed
1/2 teaspoon cumin
1/2 teaspoon dried oregano
salt and freshly ground black pepper to taste
1 1/2 cup chopped cooked chicken (optional)
8 ounces reduced fat cheddar cheese, shredded – I recommend Cabot 50% light cheddar
1 avocado
1/2 lime
Salsa for serving
1. Preheat the oven to 400ºF. Heat the olive oil in a large skillet over medium-high heat. Add the onion, garlic and both kinds of peppers to the pan. Cook, stirring often for 4-5 minutes or until the onions are translucent and the peppers begin to soften. Add the mushrooms and cook for another 2 minutes or until they start to relapse their juices. Add the frozen corn, black beans, cumin, oregano, salt and pepper. Cook for another 3-4 minutes. Remove from heat.
2. Lay two tortillas on a baking sheet coated with cooking spray. Sprinkle 1 ounce (2 tablespoons) of cheese on each tortilla. Top with about a 1/2 cup of the vegetable mixture. If including chicken sprinkle some on top of the vegetables. Top with another 1 ounce of cheese and place a second tortilla on top pressing down lightly. Repeat with the remaining four tortillas on another baking sheet (you will have a total of 4 quesadillas).
3. Bake for about 10 minutes or until the top is browned and the cheese is bubbly. Remove from the oven and slice.
4. In a small bowl mash the avocado, squeeze in a bit of lime and stir to combine. Top the quesadilla wedges with a dollop of the avocado lime mixture and serve with salsa.

Subscribe by e-mail
Enter your e-mail address to receive notifications of new posts by email
Recent Posts
Archives
Tasty Reads