Browsing articles tagged with " Thanksgiving"

What's the best part of the day after Thanksgiving? The memories of a day filled with good food and even better company? The black Friday deals that you slogged out at midnight to score? How about the LEFTOVERS? No matter how much you stuffed yourself yesterday, and even if you had to unbutton your pants at the table and swore you would never eat again, come Friday morning you will inevitably be dreaming of turkey sandwiches smothered in leftover mashed potatoes and dripping with gravy. Or pumpkin pie with a dollop of whipped cream, or Aunt Sally's fluffy homemade biscuits smeared with cranberry sauce. Oh yum, I am getting hungry all over again!
In my opinion though, the ultimate leftover meal has got to be pot pie. You can use leftover turkey, throw in whatever vegetables you have, and maybe even top it with leftover rolls. I know, I know, you spent all day yesterday cooking and the last thing you want to do is make an elaborate pot pie. But wait…making a pot pie doesn't have to be a complicated affair. I've been making variations of this recipe for years and it's rare that it takes much more than an hour to make, cooking time included. The beauty of the pot pie is just how versatile it is. The basic ingredients are chicken or turkey and vegetables. That's it. While I am partial to potatoes, carrots, celery and peas, I have been known to add sweet potatoes, parsnip, turnip, various kinds of squash, broccoli, or green beans. Basically, use what you have or what you like, even if it's just a bag of frozen mixed vegetables.
I hate to brag, but I am a bit famous for my pot pie. It could be because I make a mean pot pie superior to all others, but I think the real reason is because I actually make pot pie. Well, I am here to tell you right now that you too can make a pot pie. Slice up some of that leftover turkey, mix in some veggies and whip up a biscuit topping. You will be pleasantly surprised by just how easy it is. Happy leftover day everyone.
Chicken or Turkey Pot Pie
Serves: 8
Filling:
4-5 cups cooked chicken or turkey
(if you're not using leftovers, roast 1 ½ pounds of bone-in, skin on chicken breasts in a 350º oven for 35-40 minutes or until cooked through. Set aside until cool enough to handle, then remove the meat from the bones and discard the skin.)
1 tablespoon extra-virgin olive oil
1 medium onion, finely chopped
3 medium carrots, peeled and sliced ¼ -inch thick
2 celery stalks, sliced ¼ -inch thick
2 medium potatoes, peeled and cut into ½ -inch cubes
½ cup flour
2 cups low-sodium chicken stock
1 ½ cups 2 % milk
1 cup frozen peas
½ teaspoon dried thyme
¼ teaspoon dried sage
Coarse salt and ground pepper
Biscuit topping
1 ¾ cups flour
2 teaspoons baking powder
½ teaspoon baking soda
½ teaspoon salt
2 tablespoon butter
¾ cup buttermilk
2 teaspoons honey
Filling:

Preheat oven to 400˚ F. Butter a 13 x 9-inch baking dish or 2 smaller oven-proof dishes.
Heat olive oil in a large skillet over medium-high heat. Add onion and cook, stirring often, until barley tender, about 2 minutes.
Add carrots, potato and celery; cook until slightly soft, 8-10 minutes.
Add flour to the vegetable mixture. Stir well and let cook 1 minute more.
In a small bowl combine the chicken stock and milk. Gradually stir into the vegetables. Cook over medium heat until thick and bubbly.
Turn the heat to low, add the frozen peas, thyme, sage, and salt and pepper to taste. Stir in the chicken.
Pour chicken vegetable mixture into prepared pan.
Biscuit Topping:
In a large bowl, sift together the flour, baking powder, baking soda and salt.
Using a pastry blender or fork, cut the butter into the flour mixture until it resembles coarse meal.
In a measuring cup, combine the buttermilk and honey. Add the liquid to the flour mixture, stirring with a fork to form stiff dough. Add more buttermilk if the dough is too dry.
Knead lightly in the bowl until the dough is no longer sticky, about 3 to 5 minutes. Then turn the dough onto a lightly floured surface. Roll out to approximately ¾ -inch thick. Cut the dough into biscuits and arrange on top of the chicken, overlapping if necessary. Alternatively, you can skip the last step and simply roll out the dough into the shape and size that fits your baking dish and lay the whole thing over the top, crimping the edges like a pie crust.
Bake until the inside is bubbly and the topping is nicely browned, 25 to 35 minutes.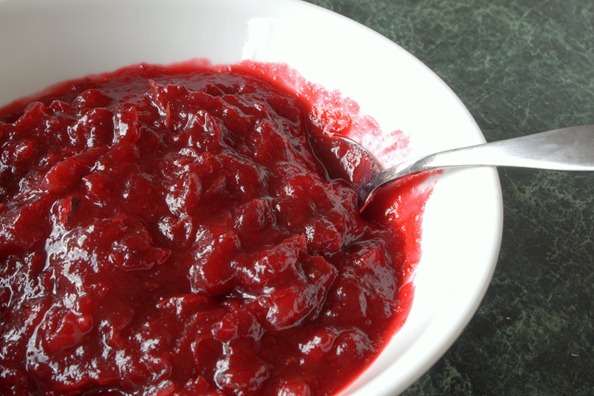 Less than a week to go until Thanksgiving…woo hoo!! For people like me who love to cook (and eat! ) Thanksgiving is THE holiday. I mean really, who doesn't love Thanksgiving? Even if you are one of those people for whom cooking is a dreaded and disastrous affair, chances are you still enjoy going over to Grandma's and feasting on turkey and mashed potatoes till you burst. Lots of holidays seem to be centered around eating these days, but Thanksgiving takes the prize for being the holiday when you are allowed… no, EXPECTED, to fill your plate with heaps of goodies and then stuff yourself silly. So, In honor of this foodalicious (this is what I originally wanted to call my blog…but someone already had it) holiday I have decided to post a few of my favorite Thanksgiving recipes.

I am starting off with a really basic and simple recipe for cranberry sauce. It seems to me that this dish is often overlooked, shunned, or even (gasp) replaced with the canned version cause no one cares enough to make the real deal. Well, I am here to correct this mistake! Yes, I know there's lots of people out there who swear by that gelatinous tube of red jelly. But just because your mom, and her mom before her, sliced it up and served it every year doesn't mean you can't break this misguided tradition. Besides, have you bothered to read the back of one of those cans of so called cranberry sauce? They're loaded with high fructose corn syrup and preservatives – things that should NEVER go in cranberry sauce, not to mention your body! Okay, enough ranting. What I am trying to say is that this recipe for cranberry sauce is delicious and super easy to make. Just try it. You will like it.

A quick recipe note: This recipe makes a fairly large amount of sauce. Unless you are serving a huge group, or you have some serious cranberry lovers in your family, I would suggest cutting it in half. Of course, there's nothing wrong with making the full recipe and using the leftovers for other tasty meals. A few ideas to you started:
• Slather it on some thick bread along with a slab of leftover turkey and a piece of melty cheese. Put this in the toaster oven and you have a day-after open face sandwich.
• Mix it with some maple syrup and use it as a glaze for pork or chicken.
• Make a parfait! Layer cranberry sauce, vanilla yogurt and granola. Top with toasted almonds.
• Whisk it with some white wine vinegar and use as a salad dressing.
Cranberry, Red Wine & Orange Sauce
Adapted from
The New Vegetarian Epicure

Makes: 8 –10 generous servings or 15-20 smaller portions

1 ½ pounds fresh cranberries
1 cup orange juice
½ cup water
Grated zest of 1 orange
1/3 cup dry red wine
1 ¾ cup sugar
½ teaspoon cinnamon
Pinch of cloves
1. Wash and pick over the cranberries, removing any that are discolored or soft.
2. In a medium pot combine all of the ingredients and bring to a boil.
3. Reduce the heat to medium and simmer gently for 10 minutes, stirring often until the cranberries pop and the sauce becomes thick and glossy.
4. Allow to cool, stirring occasionally to prevent a skin from forming on the top.

Stay tuned for more Thanksgiving recipes coming soon…very soon
Subscribe by e-mail
Enter your e-mail address to receive notifications of new posts by email
Recent Posts
Archives
Tasty Reads