Browsing articles tagged with " Cupcakes"

I decided to be rebellious this week. I made cupcakes…in January. Not just cupcakes in January, but cupcakes at the beginning of January- a mere 10 days from then date when most of us made resolutions to be healthy and eat more veggies. Why you ask? Why is she posting this delicious looking cupcake recipe when all I've had to eat for the last week is salad? The answer- because I am a firm believer that we all need a little sweet in our lives now and then…even on the 10th of January. Oh, and I also really like cupcakes.

I tried to be nice about it though. This recipe has been given a complete health make over, and while not comparable to say a handful of carrot sticks or a bowl of kale soup, it's far better for you than a twinkie or a bag of cheese puffs. Okay…so those were weird comparisons. What I am trying to say is that eating one of these cupcakes will not undo all the good you've done in the last 10 days of salad eating.

Here's what I did so these cupcakes could pass the January health test. First, I replaced all the white flour with whole wheat pastry flour. Have you ever used this stuff? It's amazing. All the benefits of whole wheat with out the heavy, chewy texture. I also cut the sugar from 1 1/2 cups to 2/3 of a cup. It seems like a large amount to cut out and I was a bit skeptical, especially since the recipe includes both lime juice and lime zest. I was pleasantly surprised though. When I first bit into one I was greeted by a mild sweetness that was balanced perfectly by a tangy burst of lime. Now that's my kind of healthy! The final modification in this cupcake makeover was to replace one egg with ground flax meal.

I am a HUGE fan of ground flax meal. I love to sprinkle it on and in everything. It's a really easy way to get in those omega 3 that everyone is always talking about, and it has a mild enough flavor that you can add it to most anything without even noticing. Normally I just add a couple tablespoons to whatever I am making but with something light and delicate like cupcakes I was afraid it might mess with the balance and make them too dry. So when I came across this bit of advice for using it as an egg substitute I knew I had the answer. It's really simple. For each egg you are replacing mix one tablespoon ground flax seed with 3 tablespoons of water. I only replaced one of the eggs that the recipe called for but it worked so well that next time I will try replacing both. There you have it- a healthier cupcake that you can eat even in January.

But wait! I almost forgot about the frosting. What can you do to make cream cheese frosting more healthy? Hmmm…ditch it for something that isn't comprised solely of cream cheese, butter and sugar. Yeah, that's probably the right answer but I couldn't bear to give it up. So what did I do? I cut the amount in half. Half the amount of frosting for the same amount of cupcakes. A perfect solution if you ask me. It was still enough frosting to give each cupcake a nice coating but not so much that it was piled up and spilling over the edges.
My final bit of advice for making guilt-free cupcakes- share them. I love to share my baked goods not only because it makes people happy when you show up at their house with cookies and cupcakes, but because it also means less for me to eat!
Key Lime Cupcakes

Inspired by
Bon Appetite
Makes: 12
1 3/4 cup whole wheat pastry flour
1/2 teaspoon baking powder
1/2 teaspoon baking soda
1/4 teaspoon salt
2/3 cup white sugar
1/2 cup (1 stick) unsalted butter, room temperature
1 egg
1 tablespoon ground flax seed
3 tablespoons water
2 1/2 tablespoons key lime juice (from about 5 key limes)
1 tablespoon key lime zest
3/4 cup buttermilk
4 ounces 1/3-less fat cream cheese, room temperature
4 tablespoons unsalted butter, room temperature
3/4 cup powdered sugar
1 tablespoon key lime juice
1 teaspoon key lime zest
1. Preheat the oven to 350ºF. Line a 12-cup muffin tin with paper liners.
2. In a medium bowl, whisk together the flour, baking powder, baking soda and salt. Set aside. In a small bowl mix the ground flax seed with 3 tablespoons of water. Set aside.
3. In a large bowl fitted with an electric mixer, or using a hand held mixer, beat the butter and sugar on high until fluffy. Add the egg and the ground flax seed mixture, beating well between each addition.Scrape down the sides of the bowl and beat in the key lime juice and zest. Turn the mixer to low and add the buttermilk and flour mixture in two additions, beginning and ending with the flour. Mix until just combined.
4. Pour the batter into the prepared baking cups. Bake for 20-35 minutes or until a wooden tester inserted comes out clean. Let cool on a wire rack before frosting.
5. Make the frosting: If your butter and cream cheese are soft enough you can easily make the frosting with just a wire whisk- make sure you sift the powdered sugar though to avoid lumps. Of course, using an electric beater is fine too. Whisk or beat the cream cheese and butter until well combined. Sift the powdered sugar over the butter and cheese mixture and add the lime juice and zest. Whisk or beat well to combine.
6. Spread the frosting evenly over each cupcake. Top with a lime slice for garnish if desired.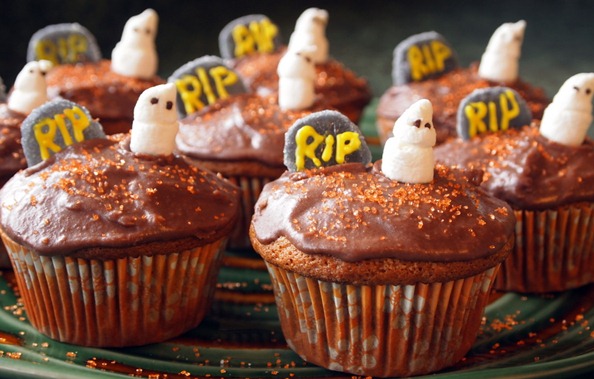 I didn't want to make cupcakes this week. I swear I didn't. Let's be honest, after those cinnamon rolls last week, I shouldn't have made cupcakes. I even had a perfectly delicious and healthy stuffed squash recipe that I was ready to post. That is until I realized what sweet filled holiday was right around the corner- Halloween! Could I really post a recipe for Quinoa Stuffed Squash the day before Halloween? Surely some sort of ghoul or goblin would come to haunt me for committing this culinary blunder. It is Halloween after all! This is the holiday that celebrates, and even encourages, our love of all things sweet. Entire isles of the supermarket are filled with jumbo sized bags of mini candy bars, orange & black M&Ms, and that iconic sugary treat we call candy corn. Who am I to fight the primal urge to dress up like superheroes and slutty nurses so we can stuff ourselves with sugar.

So I gave in, the squash recipe will have to wait till mid-week. By then most of us will be sick from over indulging on the left-over candy that we bought for the trick-or-treaters, the bag of assorted goodies that was confiscated from the kids after their night of fun (for the sake of their health, of course), or the sticky popcorn balls that your co-worker's grandmother makes every year. A nice, healthy stuffed squash will be just what the doctor ordered. For now though, I say give in to the sweet temptations. After all, it wouldn't be Halloween without slutty nurses eating chocolate frosted cupcakes.

Makes 24 cupcakes
Pumpkin Cupcakes:
2 2/3 cups all-purpose flour
2 teaspoons baking soda
2 teaspoons baking powder
2 teaspoons ground cinnamon
¼ teaspoon freshly grated nutmeg
¼ teaspoon cloves
1 tsp. salt
1 cup granulated sugar
1 cup packed light brown sugar
1 cup canola or vegetable oil
4 large eggs
1 cup fresh or canned pumpkin pureeChocolate frosting:
5 tablespoons unsweetened cocoa powder
5 tablespoons unsalted butter, room temperature
2 2/3 cups confectioners' sugar
4-6 tablespoons milk
1 teaspoon vanilla extractDecorations:
Black Gumdrops
Yellow writable icing
Mini Marshmallows
Chocolate sprinkles
Orange sanding sugar
A few tips for the graveyard assembly:Gravestones: You can get more than one gravestone out of a single gumdrop. I cut the entire candy into slices that were about a 1/4-inch thick. I was able to use 3 or 4 of the pieces. Just be sure that the gravestones are big enough to write on with the icing.Ghosts: For the top half of the ghost, twist the marshmallow with your fingers to form a point. Poke two tiny holes with a toothpick and insert the sprinkles for eyes. Cut a slice off each of the marshmallows and stick the cut sides together.

Be sure to place your decorations on the cupcakes before the icing dries. Finish them off by sprinkling with orange sanding sugar.

Preheat oven to 350˚. Line two 12-cup muffin pans with paper liners.

In a medium bowl whisk together the flour, baking soda, baking, powder, cinnamon, nutmeg, cloves and salt. Set aside.

In a large bowl fitted with an electric mixer (or using a hand mixer) combine the brown sugar, granulated sugar, and oil. Add the eggs one at a time, beating well between each addition. With the beater on low, add the flour mixture in two parts, mixing well between each addition. Fold in the pumpkin purée and mix by hand until thoroughly combined.

Divide the batter evenly among the liners. Each cup will be about ¾ of the way full. Bake 20 to 23+- minutes or until the cakes spring back when touched and a toothpick inserted in the center comes out clean. Depending on your oven, you may need to rotate the pans once. Cool completely on a wire rack.

Chocolate Frosting: In a medium bowl sift together the confectioners' sugar and cocoa powder. In a large bowl fitted with an electric mixer (or using a hand mixer) beat the butter until creamy, about 4 minutes. With the mixer on medium low, add the sugar mixture alternating with the milk. Mix in the vanilla. Increase the mixture speed to high and beat until smooth.
Subscribe by e-mail
Enter your e-mail address to receive notifications of new posts by email
Recent Posts
Archives
Tasty Reads