Browsing articles tagged with " cranberry"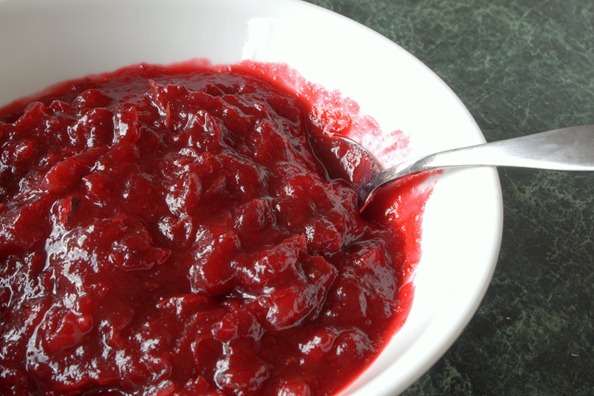 Less than a week to go until Thanksgiving…woo hoo!! For people like me who love to cook (and eat! ) Thanksgiving is THE holiday. I mean really, who doesn't love Thanksgiving? Even if you are one of those people for whom cooking is a dreaded and disastrous affair, chances are you still enjoy going over to Grandma's and feasting on turkey and mashed potatoes till you burst. Lots of holidays seem to be centered around eating these days, but Thanksgiving takes the prize for being the holiday when you are allowed… no, EXPECTED, to fill your plate with heaps of goodies and then stuff yourself silly. So, In honor of this foodalicious (this is what I originally wanted to call my blog…but someone already had it) holiday I have decided to post a few of my favorite Thanksgiving recipes.

I am starting off with a really basic and simple recipe for cranberry sauce. It seems to me that this dish is often overlooked, shunned, or even (gasp) replaced with the canned version cause no one cares enough to make the real deal. Well, I am here to correct this mistake! Yes, I know there's lots of people out there who swear by that gelatinous tube of red jelly. But just because your mom, and her mom before her, sliced it up and served it every year doesn't mean you can't break this misguided tradition. Besides, have you bothered to read the back of one of those cans of so called cranberry sauce? They're loaded with high fructose corn syrup and preservatives – things that should NEVER go in cranberry sauce, not to mention your body! Okay, enough ranting. What I am trying to say is that this recipe for cranberry sauce is delicious and super easy to make. Just try it. You will like it.

A quick recipe note: This recipe makes a fairly large amount of sauce. Unless you are serving a huge group, or you have some serious cranberry lovers in your family, I would suggest cutting it in half. Of course, there's nothing wrong with making the full recipe and using the leftovers for other tasty meals. A few ideas to you started:
• Slather it on some thick bread along with a slab of leftover turkey and a piece of melty cheese. Put this in the toaster oven and you have a day-after open face sandwich.
• Mix it with some maple syrup and use it as a glaze for pork or chicken.
• Make a parfait! Layer cranberry sauce, vanilla yogurt and granola. Top with toasted almonds.
• Whisk it with some white wine vinegar and use as a salad dressing.
Cranberry, Red Wine & Orange Sauce
Adapted from
The New Vegetarian Epicure

Makes: 8 –10 generous servings or 15-20 smaller portions

1 ½ pounds fresh cranberries
1 cup orange juice
½ cup water
Grated zest of 1 orange
1/3 cup dry red wine
1 ¾ cup sugar
½ teaspoon cinnamon
Pinch of cloves
1. Wash and pick over the cranberries, removing any that are discolored or soft.
2. In a medium pot combine all of the ingredients and bring to a boil.
3. Reduce the heat to medium and simmer gently for 10 minutes, stirring often until the cranberries pop and the sauce becomes thick and glossy.
4. Allow to cool, stirring occasionally to prevent a skin from forming on the top.

Stay tuned for more Thanksgiving recipes coming soon…very soon
Subscribe by e-mail
Enter your e-mail address to receive notifications of new posts by email
Recent Posts
Archives
Tasty Reads