Sometimes I'm late to the party. No, not fashionably late. You know, the kind of late where you show up two hours after the party begins just so you can make a grand entrance. That's not me. First off I'm not at all fashionable, and second I find the idea of making a grand entrance kind of terrifying. I'm also not the party started 30 minutes ago and I'm still in the shower kind of late. In fact, I'm a bit of stickler for timeliness and become riddled with anxiety anytime I'm running behind. I'm still late for the party though. I'm late for the party because I just discovered my love for kale this winter. Because I waited so long to make a recipe using blood oranges that now they're out of season, and because this week I used Meyer lemons for the first time EVER. Yup that's right, the party I'm late for is the food trend party and I'm pretty sure the party van just left without me.
I've been seeing these sunny yellow lemons all over the Internet for the past month. Meyer lemon cake, Meyer lemon donuts, Meyer lemon ice cream, Meyer lemon martinis…I could go on and on. I began to wonder what was so special about these smooth skinned, egg yolk colored lemons. According to a fascinating story on NPR. Meyer lemons have a sweeter, less acidic flavor then regular lemons (which makes them perfect for desserts but not so perfect for when you want acidity like in sauces and soups). They also are known for their soft, thin skin and high volume of juice. The season for Meyer lemons begins in November and extends into March. Since their thin skin makes them difficult to ship they can be hard to find if you live far from areas where they are grown. Here in northern New England we're about as far away from a citrus growing climate as you can get. Luckily though, my local grocery store pretty much rocks when it comes to stocking hard to find items and earlier this week I spotted these beauties in the citrus section. It was sign for sure. I was like my personal invitation to attend the exclusive food trend party. This time I would not be late.
The only thing left to decide- what to make for this fabulous party. I wanted something that would compliment the sweetness of the lemon without over whelming it. I also wanted something healthy that I wouldn't feel bad about eating after the pig out I had on Valentine's Day treats. So I chose…carrots. I warned you I wasn't very fashionable. While everyone else is making the equivalent of an evening gown with their Meyer Lemons I went with my old reliable overalls. But they're soo comfy. Seriously though- carrot muffins made with wheat germ and brown rice syrup may not sound very sexy, but when you bite down into that moist muffin studded with bits of carrots and dripping with sweet lemon syrup you will thank me for choosing comfort over style.
  I incorporated Meyer lemon in this muffin two ways. First I added some of the fragrant zest to the muffin batter.
Second, I made a simple glaze to drizzle over the top of the muffins. It includes just two ingredients- lemon juice and honey.
This is a fairly thin glaze that you pour over the still warm muffins. The glaze soaks down into the muffin and gives it an extra kick of lemony sweetness.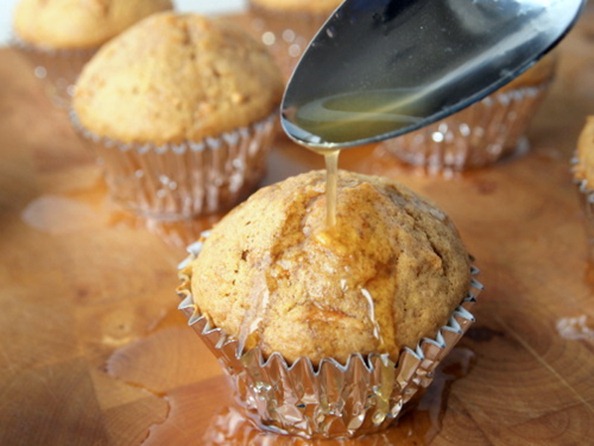 Looks like I made it to the party just in time.
Carrot Muffins with Meyer Lemon Glaze

Makes 12 muffins
1 cup whole wheat flour
3/4 cup white flour
1/4 cup wheat germ
1 teaspoon baking powder
1/2 teaspoon salt
2 teaspoons cinnamon
1/4 cup light brown sugar
1/3 cup brown rice syrup
1/2 cup virgin coconut oil, melted *
2 eggs
3/4 cup milk (regular, skim, soy, rice)
1 teaspoon vanilla
Zest of 1 Meyer lemon (about 1 tablespoon)
2 cups carrots, grated (from ~4 carrots)
Juice of 1 Meyer lemon (about 1 tablespoon)
2 tablespoon honey
* I did not find that the coconut oil gave these muffins a coconut flavor, but if you have a strong aversion to coconut and don't wish to risk it you may want to substitute canola oil
1. Preheat the oven to 350ºF. Line a 12 cup muffin tin with paper or foil liners.
2. In a large bowl whisk together the dry ingredients- whole wheat flour through cinnamon. In a medium bowl mix together the eggs, brown sugar and brown rice syrup. Add the melted coconut oil, vanilla and lemon zest and mix until well combined. Slowly add the milk and mix until just incorporated. Fold in the grated carrots.
3. Divide the batter among the muffin tins and bake for 25 to 28 minutes or until a wooden pick inserted comes out clean.
4. Make the glaze: Combine the lemon juice and honey in a small bowl and stir to combine.
5. Drizzle the glaze over the still warm muffins. This glaze is very thin and will run down the sides of the muffin. Slowly pour just a scant teaspoon of the glaze over each muffin and it will soak into the top.

5 Comments
Subscribe by e-mail
Enter your e-mail address to receive notifications of new posts by email
Recent Posts
Archives
Tasty Reads